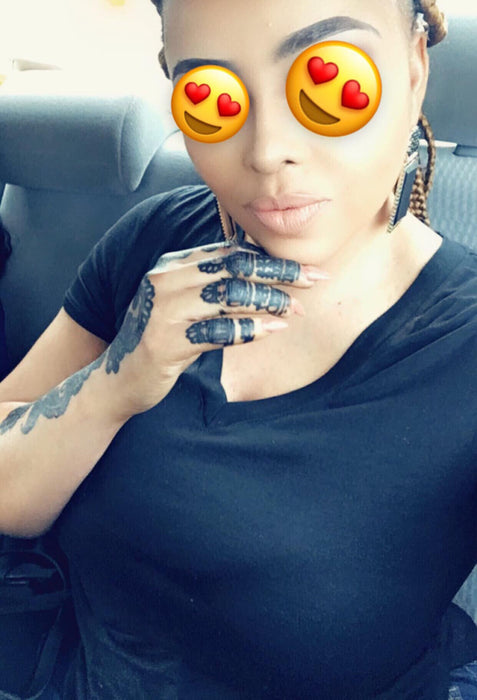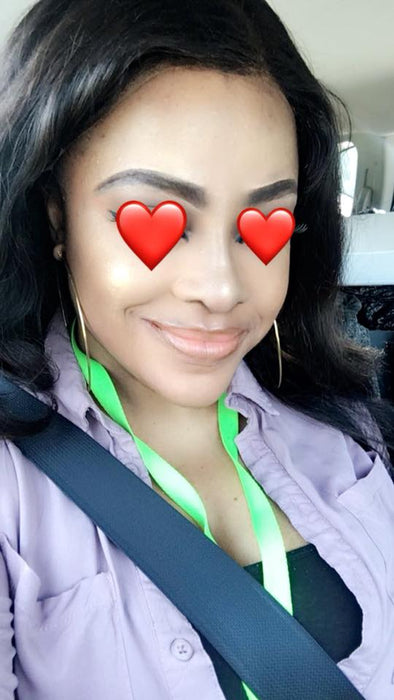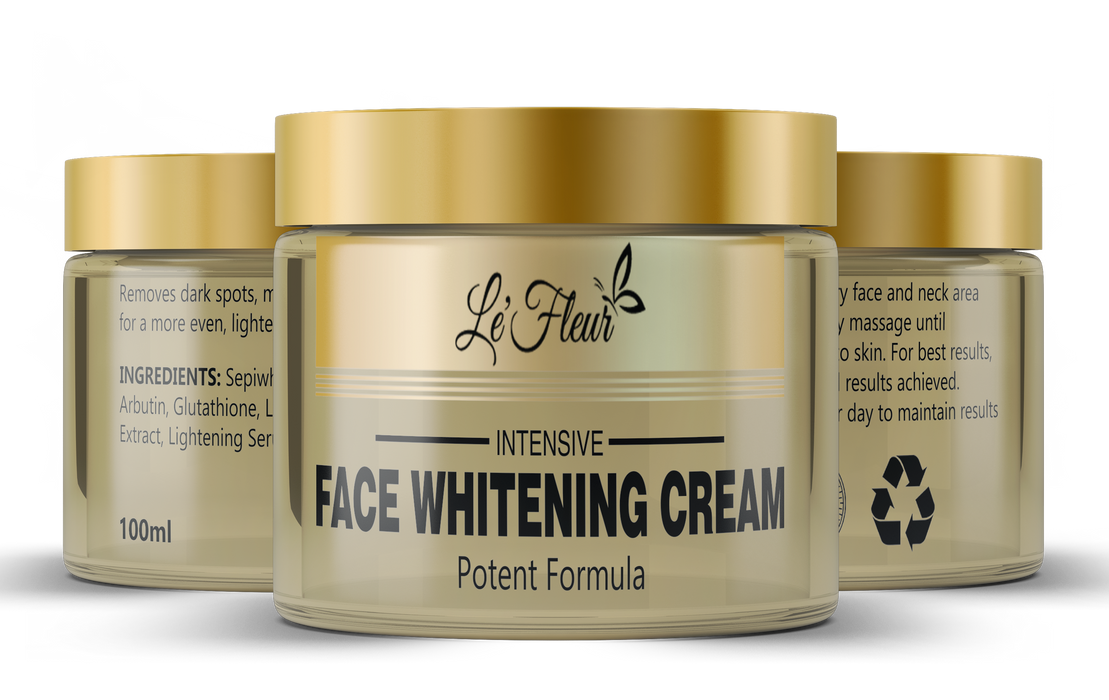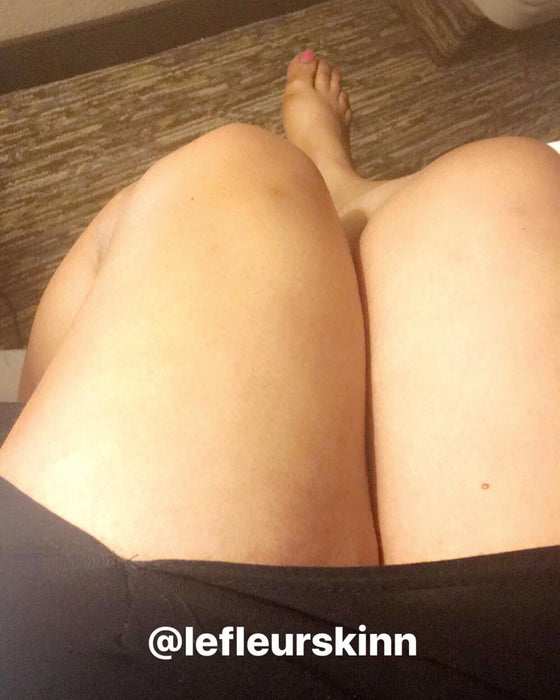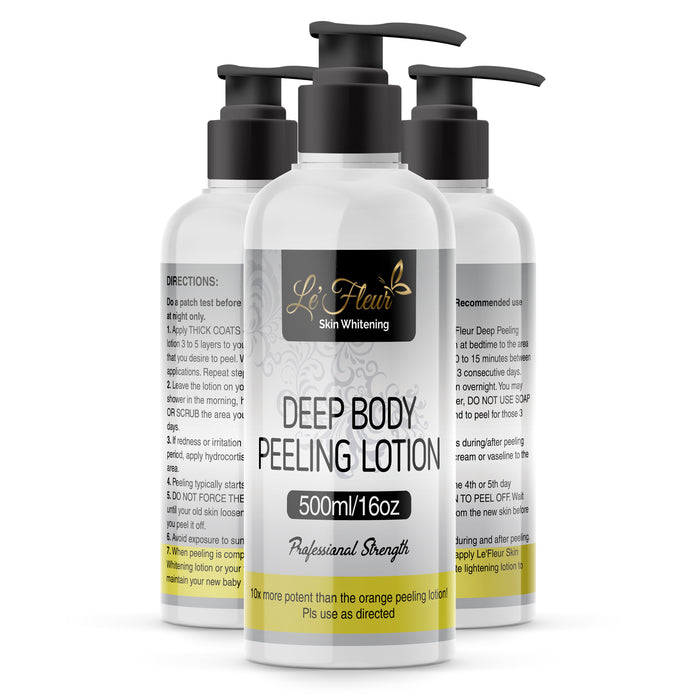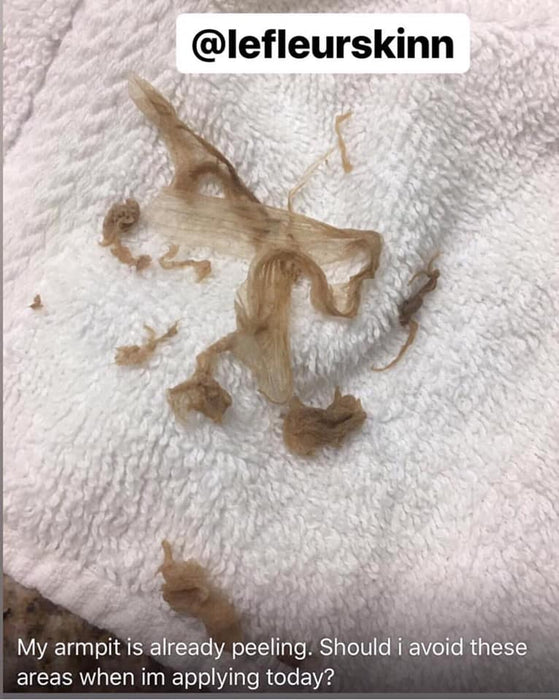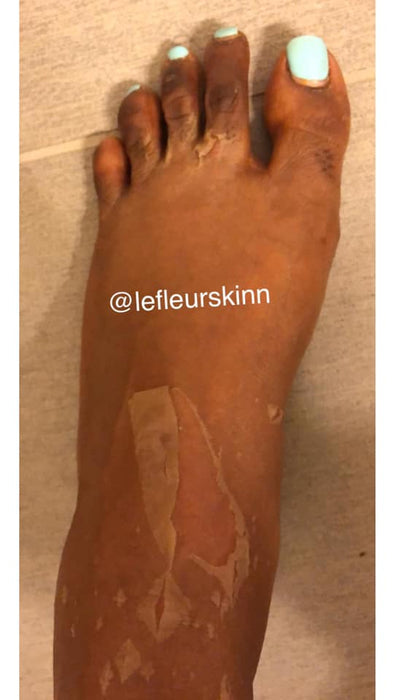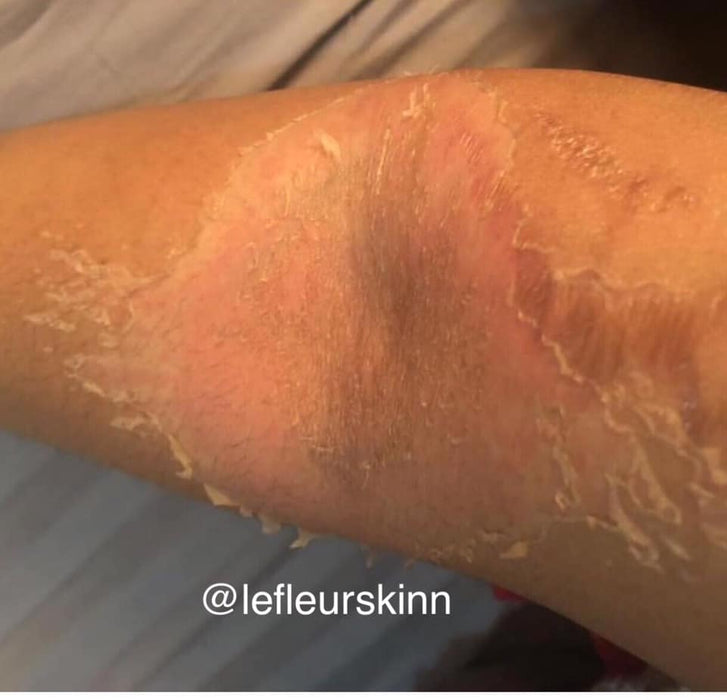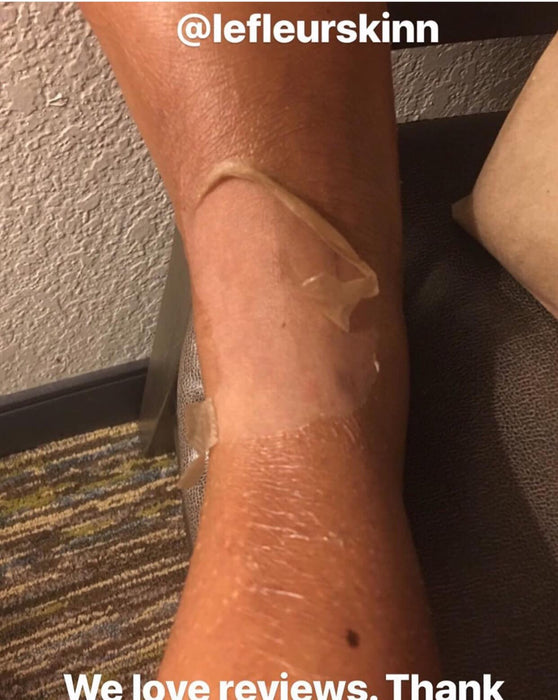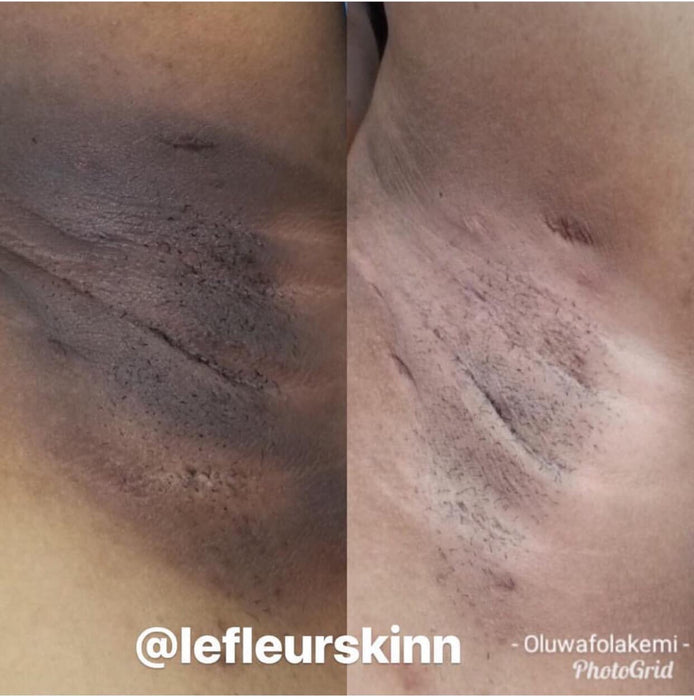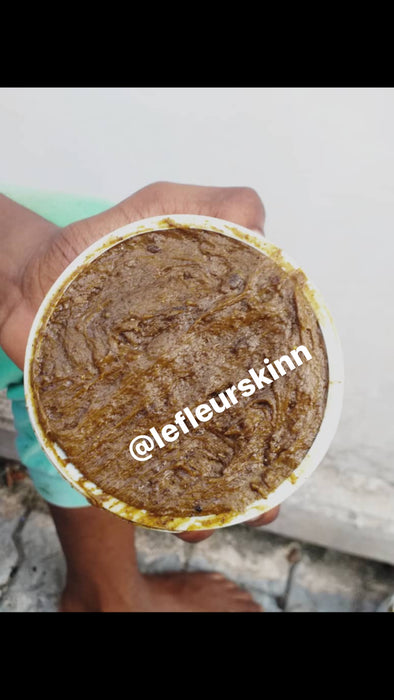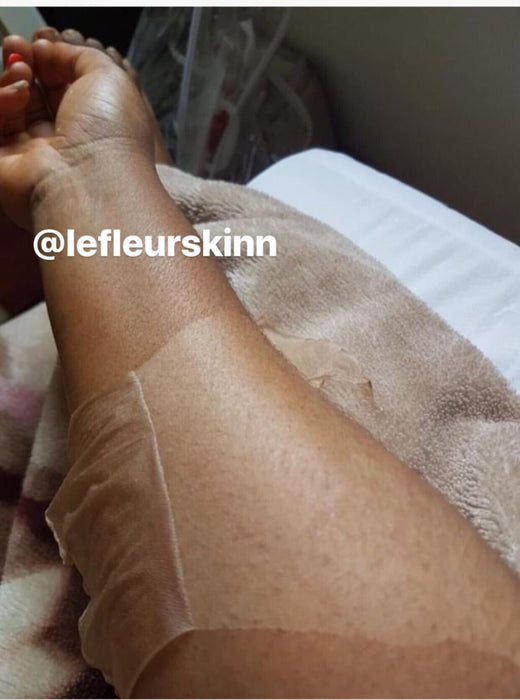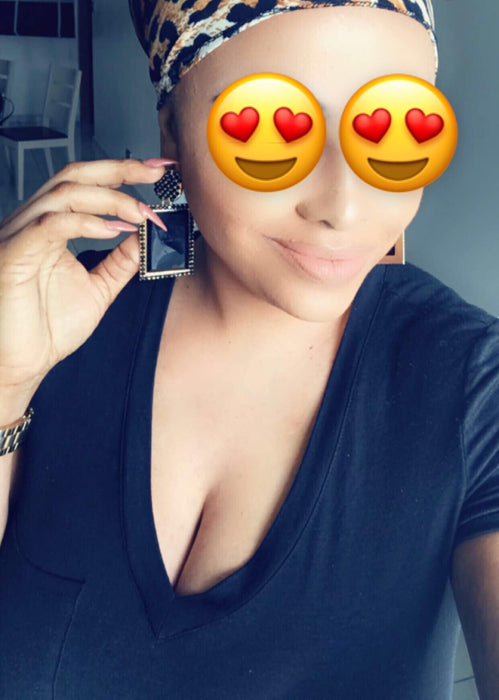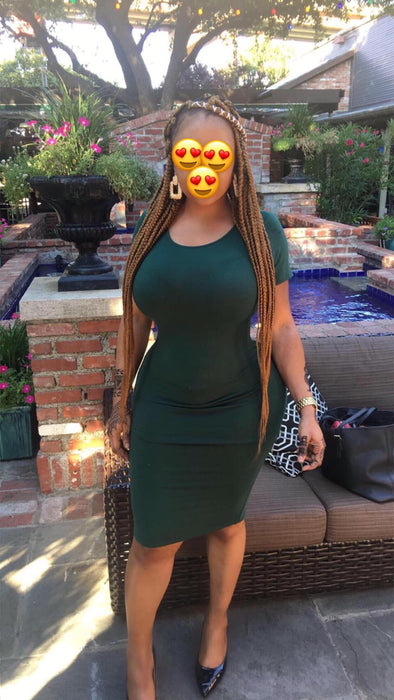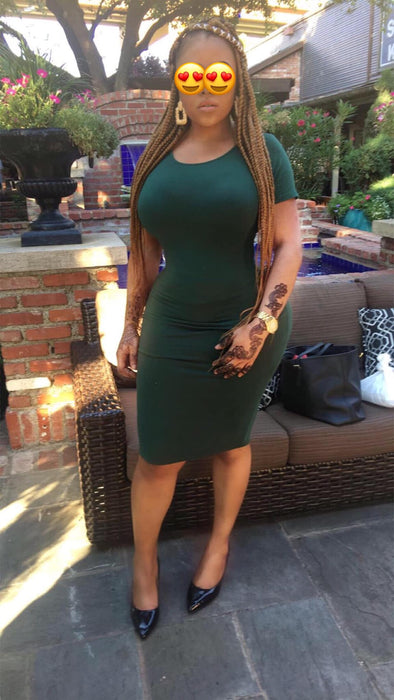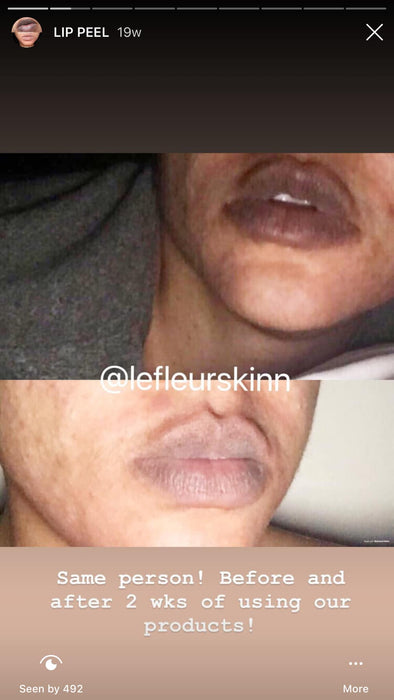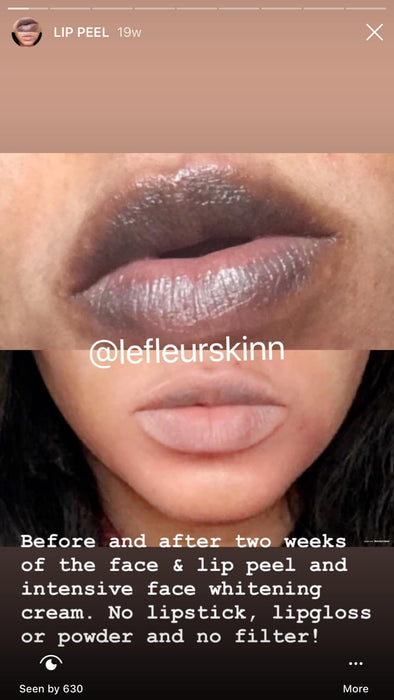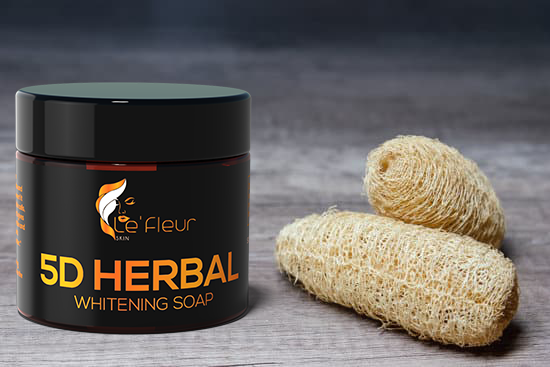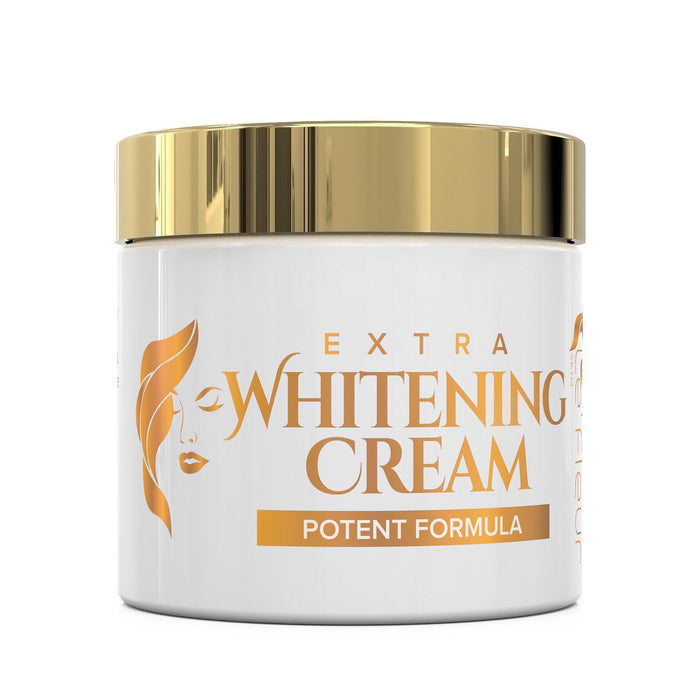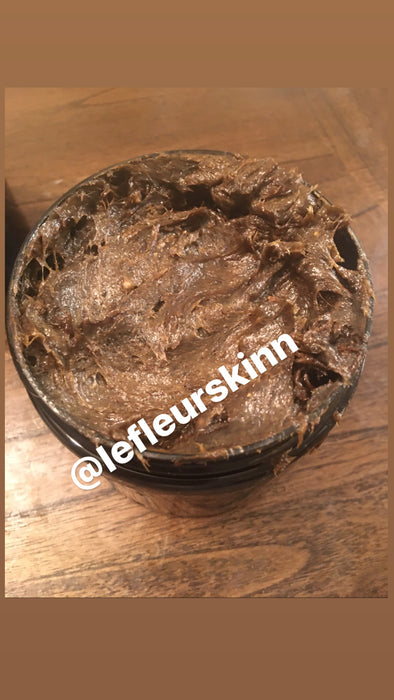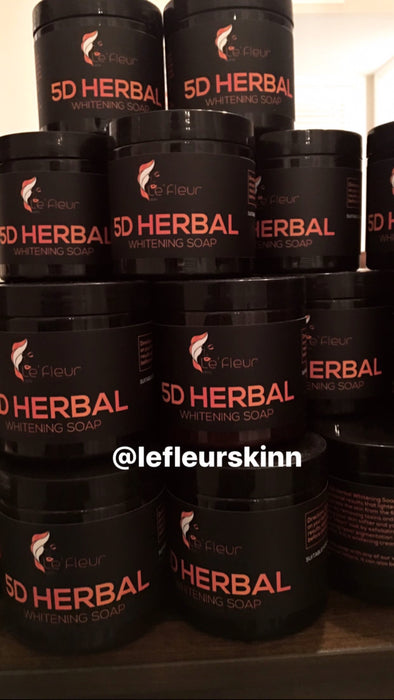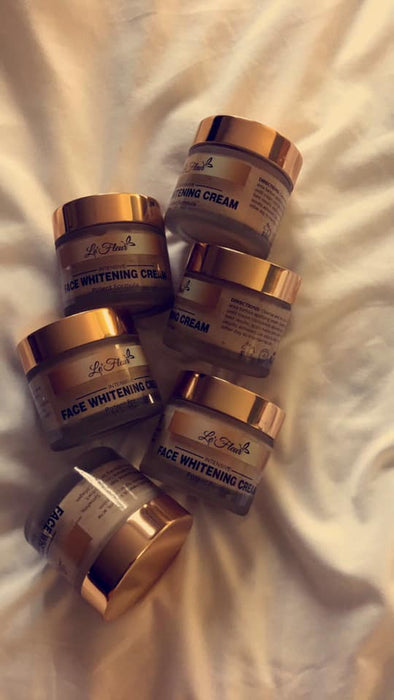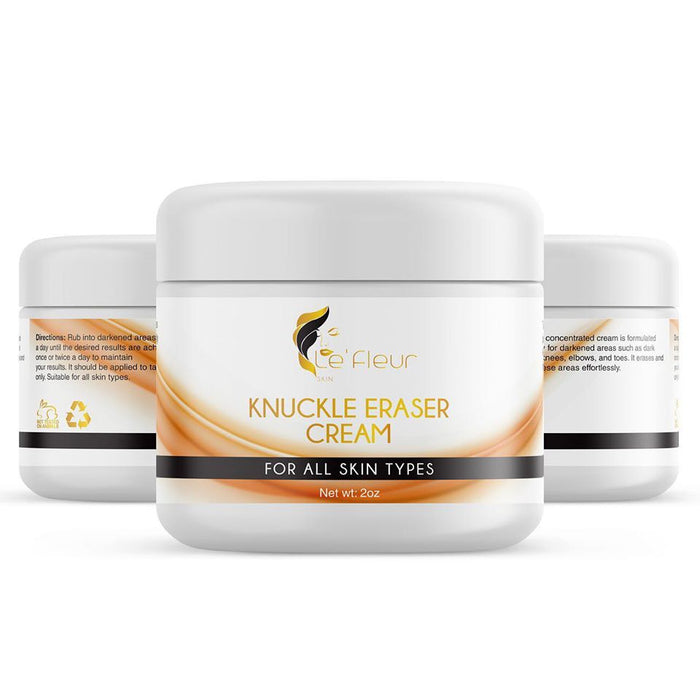 LE'FLEUR PEELING & WHITENING- LARGE 5 PC SET
THIS SET INCLUDES:
LE'FLEUR DEEP PEELING LOTION- 500ML/16OZ
LE'FLEUR 5D HERBAL WHITENING SOAP- 500ML/16OZ
LE'FLEUR EXTRA WHITENING CREAM- 500ML/16OZ
LE'FLEUR INTENSIVE FACE WHITENING CREAM- 100ML
LE'FLEUR KNUCKLE ERASER CREAM- 60ML/2OZ
LE'FLEUR DEEP PEELING LOTION- 500ML/16OZ: Our deep peeling lotion is ten times more powerful than the orange peeling lotion in the market! It peels your skin in sheets! Our deep peeling lotion is perfect for thick, stubborn skin, or you have lots of dead skin build up thats making your skin resistant to skin lightening products or you just want MAJOR exfoliation. If you have a dark butt, dark back, tanned arms, this is perfect for you. If you want to peel your entire body, this is perfect for you!
Directions:

DO A PATCH TEST BEFORE USE. Recommended use at night only. 

1.) Apply A THICK COAT of the peeling lotion 3 to 5 times to your skin at bedtime to the area that you desire to peel, waiting 10 to 15 minutes between applications, for 3 consecutive days. Make sure the lotion is absorbed before each application. (This means apply the first layer, wait 10 to 15 minutes, apply the second layer, wait 10 to 15 minutes,  repeat till you get to 3 to 5 layers). Do this for 3 days. 

2.) Leave the lotion on your skin the entire night. You may take a bath in the morning, however, DO NOT USE SOAP OR SCRUB the area where you applied the peeling lotion.

3.) If redness or irritation occurs during peeling, apply hydrocortisone cream. You can also use petroleum jelly or any moisturizing lotion to moisturize your skin during and after peeling. 

4.) Wait for at least 5-7 days for your old skin to peel off.

5.) DO NOT FORCE THE SKIN TO PEEL OFF. Wait until your old skin loosen up from the new skin before you peel it off.

6.) AVOID SUNLIGHT during application, peeling stage and 1 week after peeling. 

7.) When peeling is complete, apply Le'Fleur Skin Whitening lotion or your lotion to maintain your new baby skin!
DO A PATCH TEST BEFORE USE. AVOID APPLYING IN SENSITIVE AREAS OF THE SKIN. PLS USE THIS LOTION WITH CAUTION.
IF SKIN STARTS PEELING BEFORE THE 3 DAYS OF APPLICATION IS FINISHED, AVOID APPLYING ON AREAS THAT HAVE ALREADY PEELED TO PREVENT BURNING YOUR SKIN. 
LE'FLEUR SKIN IS NOT RESPONSIBLE FOR ANY DAMAGE TO YOUR SKIN IF THE DIRECTIONS ON THE LABEL AND OUR WEBSITE ARE NOT FOLLOWED ACCORDINGLY AND IF THIS LOTION IS MISUSED.  
LE'FLEUR EXTRA WHITENING ORGANIC SOAP- 500ML/16OZ:
Le'Fleur Extra Whitening Organic Soap is a product that gives exceptional results
to lighten, whiten and rejuvenate the skin from the first shower! It works by removing toxins and dead skin cells, making your skin softer and younger. It gives you a "clean" look by exfoliating your skin and removing hyper pigmentation and dark patches. It is a whitening cream "booster."

Use this soap along with our LE'FLEUR EXTRA WHITENING CREAM and see it work its magic on your skin!
Directions: Squeeze soap into your loofah or sponge and wash your skin thoroughly.

For best results, apply on damp skin 10 minutes before shower.
Suitable for all skin types.
LE'FLEUR EXTRA WHITENING CREAM- 500ML/16OZ:
Le'Fleur Extra Whitening Cream is richly formulated to give that clean, whitening effect on the skin. It is carefully designed to help diminish the appearance of spots, including white spots, giving the skin a whiter, flawless complexion.
This is the BEST whitening cream you will ever use on your skin! It WHITENS and CLEANS your skin evenly without the use of harmful chemicals. It removes dark patches, white spots, dark spots, and uneven skin. IT CLEANS YOUR SKIN FROM HEAD TO TOE. We promise you will crave for more once you use this cream!!! We are so excited about it!! Expect to start to see results from 3 days to a week! Pls make sure your skin is exfoliated before use. 
Directions:
After cleansing with Le'Fleur Whitening Soap, apply into damp skin until fully absorbed, day and night. After getting your desired shade, apply once a day to maintain your new, luminous skin. For best results, exfoliate before use.
Recommendations: Great results if used along with our Le'Fleur Whitening Black soap. 
Quick Tip: While rubbing your skin, make sure to rub your knuckles on each palm so your knuckles blend in with the rest of your skin. 
This cream is for individuals that REALLY want to whiten their skin several shades. 
LE'FLEUR INTENSIVE FACE WHITENING CREAM- 100ML:
Potent Formula
Removes dark spots, melasma, sunburn, acne spots, for a more even, lighter complexion. 
Ingredients: Sepiwhite, Kojic acid, Symwhite, Alpha Arbutin, Glutathione, Licorice Extract, Bearberry Extract, Lightening serums, Collagen. 
ALL SALES ARE FINAL. NO REFUNDS OR EXCHANGES. 
The information on this website has been compiled from published sources and is provided only as a guide. Although every effort has been taken to ensure that information published on this site is correct and up to date, Le'Fleur Skin cannot guarantee the accuracy of all information presented, and accepts no liability in respect of any omission or error. The customer should always take full responsibility on their choices to satisfy themselves as to the ultimate suitability of a product for an intended internal use or external application. Le'Fleur Skin accepts no liability in the unlikely event of an adverse reaction occurring when using one of its products.